The Wine-Dark Sea Noods Radio

Website: https://www.courtneyyusuf.com/radio/

I was honored to have my Palestine poster art be part of The Wine Dark Sea Radio by Courtney Yusuf. The Wine-Dark Sea is a sonic cruise around the Mediterranean. From ancient rhythms to beach-club beats, each show explores a different musical genre and the world from which it came.





CAL STATE LA AFRO LATIN ENSEMBLE
SETENTA

SETENTA CD Cover
Art: Nery Orellana
I was honored to be assigned the creation of the art for SETENTA-a new Music CD by the Cal State Afro Latin Ensemble. The award-winning ensemble is under the direction of Dr. Paul De Castro, founder and director of the University's master of music degree option in Afro Latin Music. Students learn the art of arranging, orchestration, and idiomatic writing for instruments such as congas, timbales, bongos, and maracas. They study practical, theoretical, historical, and philosophical topics, with a strong emphasis on discourse with professional musicians in Los Angeles. The Cal State LA Afro Latin Ensemble provides graduate and undergraduate students the opportunity to study and perform music from the various traditions within Afro Latin music.
The Cal State LA Afro Latin Ensemble is dedicated to the performance of salsa, timba, Afro-Cuban, and Afro-Caribbean music. The repertoire ranges from classic danzones and early conjunto classics to contemporary salsa and timba charts.
Setenta is a collaboration between gifted students, distinguished faculty, and amazing guest artists. This recording features premier songs from the Cal State LA Afro Latin Ensemble's repertoire, and provides a musical perspective of the rich and complex Afro Caribbean culture. These pieces emphasize the various Afro Cuban styles—from revered classics to modern timba—and showcase the talent of our student musicians.
FEATURING: José Arellano, Luis Bonilla, Iris Sandra Cepeda, Leider Chapotín, Gonzalo Chomat, Alex Henderson, Edgar Hernández, Lily Hernández, Juan Karlos, Rachel López, Rigoberto López, Calixto Oviedo, Josiel Pérez, Greg Samuel and Tony Shogren.
Available for purchase on
Amazon
,
CD Baby
, and
iTunes
. On streaming services now.
CD Announcement
T-shirt
SETENTA Mug and CD package
Dolores Huerta

DOLORES HUERTA Holding my event card design
Photos: J. Emilio Flores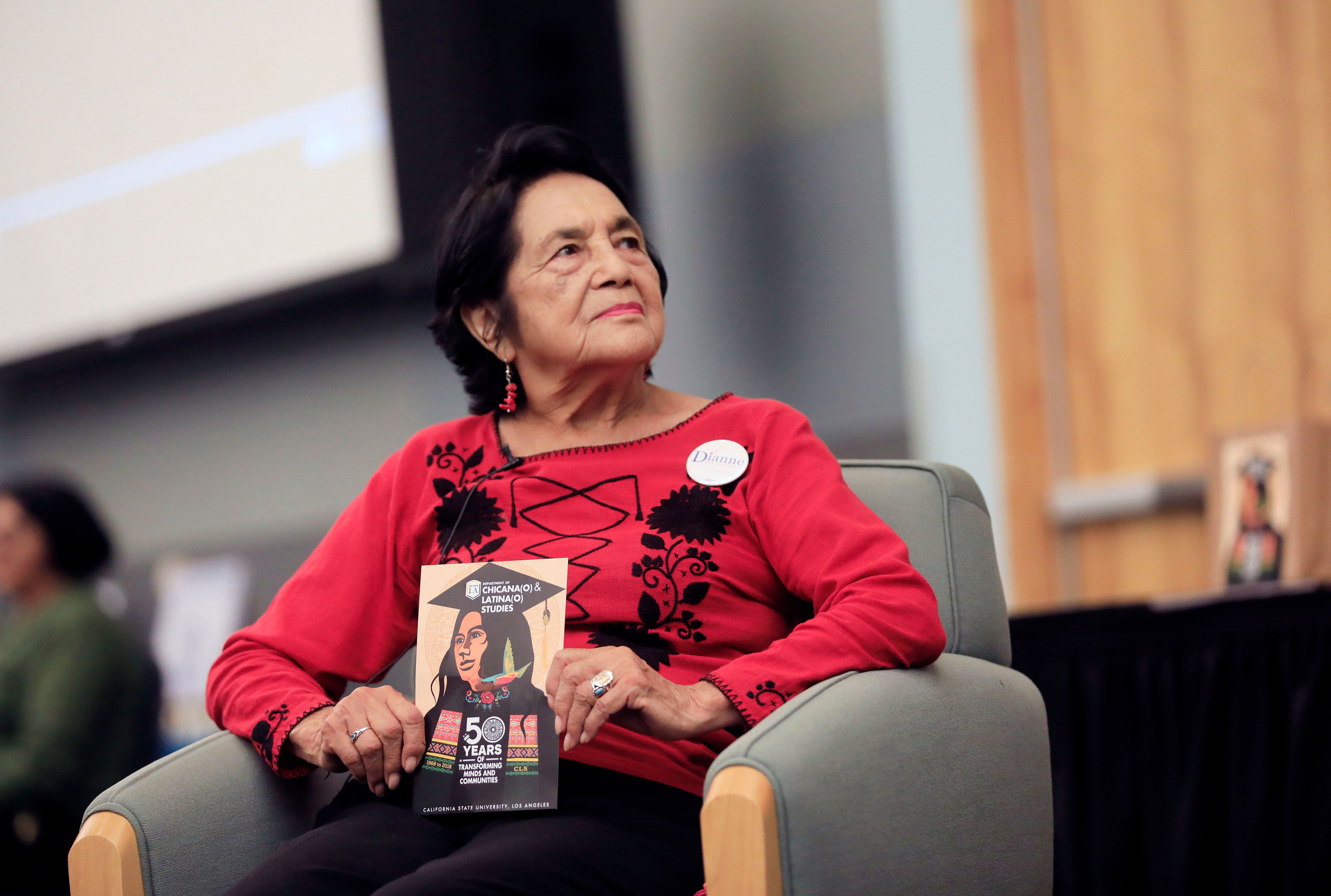 Cal State LA commemorates 50 years of Chicano studies with tribute to civil rights pioneer Dolores Huerta. Huerta took the audience in the packed Golden Eagle ballroom through lessons in history, politics and economics, with stories from more than 60 years on the frontlines of social justice crusades. "It was actually right here in the city of Los Angeles where the Chicano movement started," she said.
President William A. Covino presenting my event poster to Dolores Huerta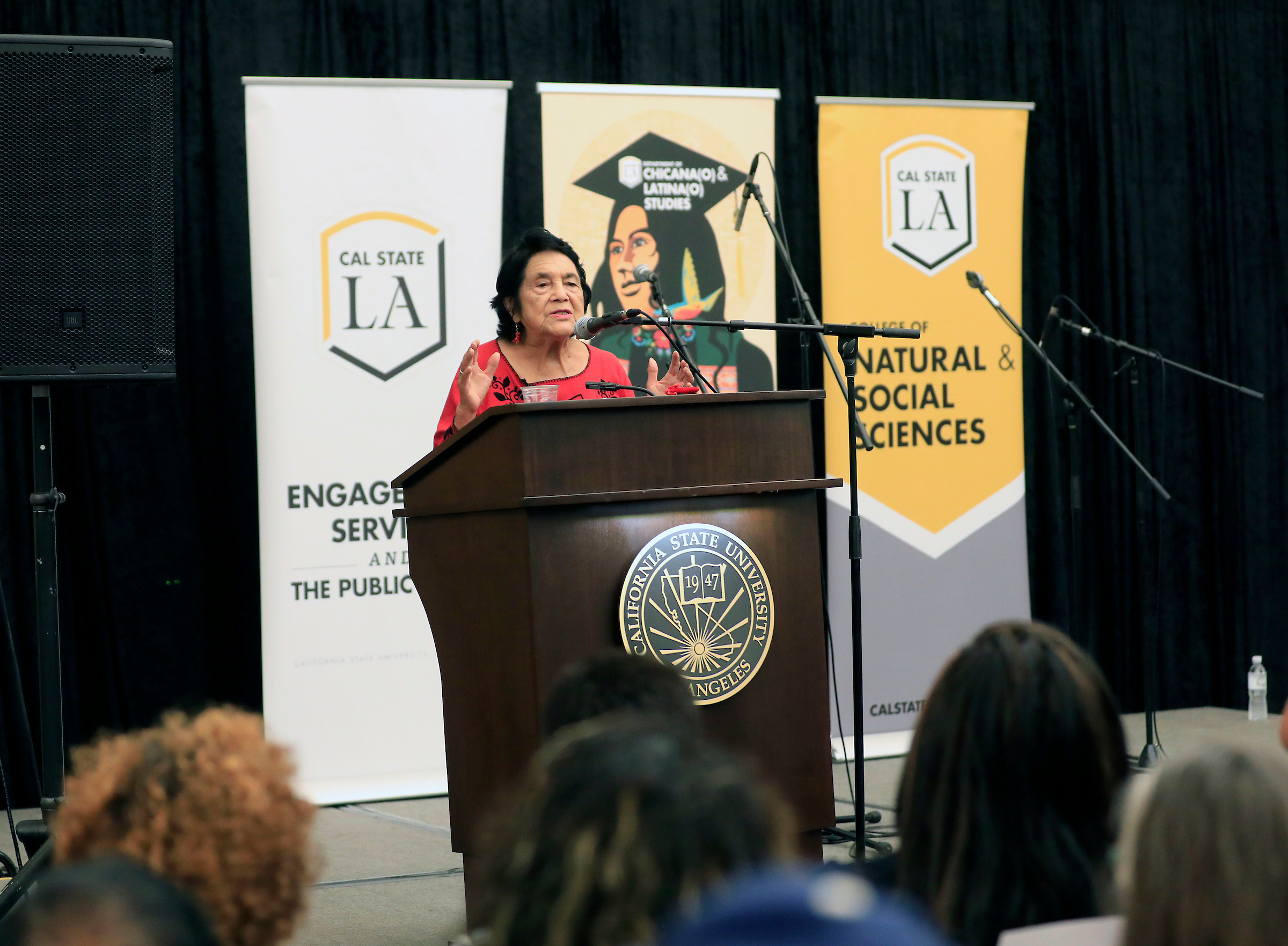 Huerta speaking to a large audience
Plaque and gift bag for Dolores Huerta